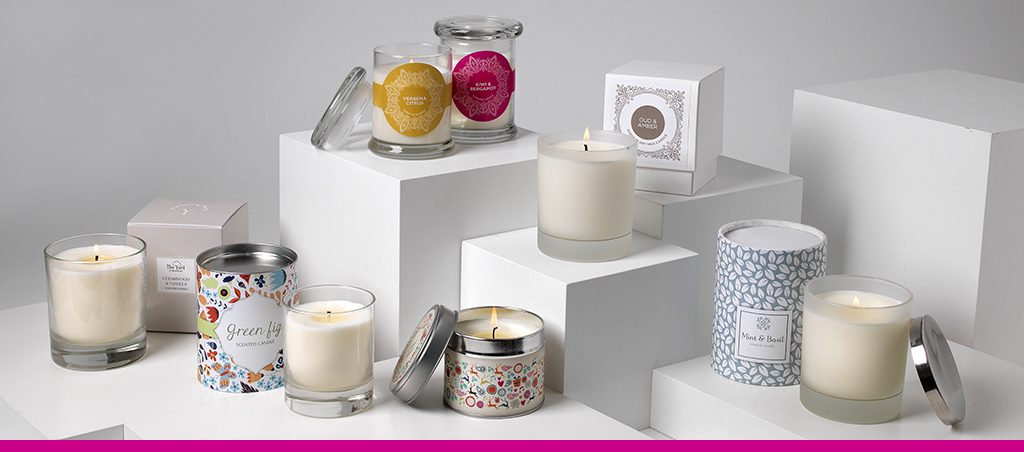 White label candles and reed diffusers
We offer a broad range of services that include the design and manufacture of white label candles for both retail and trade customers. Whether you are looking for a complete design service or just to add own brand labelling to our products we can guide you through the process.
We hand-make all our container candles using natural soy wax and cotton wicks.
Candles can be produced in either glass, ceramic or tin containers, available in a range of sizes and colours.
We have an experienced in-house designer allowing us to offer a fully bespoke design service including glass and packaging design.
You can choose from our range of synthetic or essential oil fragrances available off the shelf or we can tailor-make a fragrance from your brief (minimum quantity applies).
A guide to our materials
Fragrance
We use high quality, concentrated fragrances from the UK's leading perfumers. Our fragrances are complex in nature and combine many scents to create interesting and well-rounded aromas. Our fragrances have been tried and tested and we offer a range of fragrances to suit a variety tastes. We use a high percentage of fragrance in all our products, mixed thoroughly, so no disappointing tail off of over time. We supply synthetic and essential oil fragrances.
Wax
All our candles are made using soy wax made from soy beans. It is 100% vegetable, renewable, sustainable, biodegradable and environmentally friendly. Soy wax has a lower melting point so candles burn cooler, allowing for faster scent dispersion, and slower, resulting in a longer lasting candle. Soy wax burns cleaner producing less black soot which can discolour walls, ceilings and furniture. Soy wax spills can easily be cleaned up with just soap and water. Our soy wax is free of toxic materials, free of palm wax, petroleum, paraffin, pesticides and herbicides, is GM free and is not tested on animals.
Wicks
We use natural cotton wicks which have been specifically chosen to match their container and fragrance. This means that, if you look after your candle, it will burn cleanly all the way to the bottom of the glass without making a well down the middle.
Candle containers
We offer a number of different sized glasses including 9cl votives, 30cl tumblers and our large 650cl three wick glass, we also offer white ceramic containers and metal tins. Our glasses can be supplied clear, white frosted, colour frosted, coloured gloss opaque, coloured matt opaque and silver or gold. There are a number of stock colours or, for an extra cost, we can pantone match. Colours can be applied to the outside, the inside or both. Single coloured patterns or logos can be printed to the outside of our glasses, the minimum order for printing is 500 units per design. Our ceramic containers can be printed in up to 4 colours, minimum quantities depend upon the complexity of the design. We can supply silver, gold and rose gold metal lids and wooden lids to our 20cl and 30cl glasses. All our containers are supplied with a safety label adhered to the bottom which is a legal requirement.
Diffuser and room mist containers
We offer squat round, squat square, tall round and tall square 100ml diffuser glasses plus a squat round 50ml glass. As with the candle glasses these can be produced in a variety of colours and finishes but to the outside only. We offer silver, gold and rose gold caps for our diffusers. Our diffusers come with bundles of 8 natural ratan reeds tied together with raffia. All our diffuser bottles are suitable to use as room mist containters. Our room mists come with a silver spray nozzle and clear cap.
Diffuser and room spray base
We use Augeo Multi Clear which is a new and exciting solvent made from soy based renewable resources. With excellent solubilising power, low evaporation rate and low odour, Augeo is by far the best diffuser base we have found. Unlike some other diffuser bases, Augeo evaporates fully and does not have the metallic or chemical odour associated with other bases. It is non-toxic and has a low carbon footprint.
Labelling
We can supply labelling for all our products and every label is tailor-made for each client. We can supply all shapes and sizes with a variety of finishes including matt coated, gloss coated, uncoated and foil. We have standard sized templates to label our tins both to the lid and the barrel.
Packaging
We hold standard box cutters for each of our glasses and these can be customised by the design, paper stock and finish. Paper stocks include coated, uncoated and textured. Finishes include gloss or matt laminate, embossing or foiling. We also offer plain white or black boxes for you to customise with your own labelling. Bespoke boxes can be developed and we are happy to recommend the suitability of a product. Templates for all our boxes are supplied with guidance on how to supply the artwork. We also offer a design service for the packaging and labelling. This can range from simple logo placement and artwork generation to complete branding and graphic design.
If you are interested in finding out more about producing white label candles, or would like to request a copy of our catalogue, please email us on info@nvcandles.co.uk or call 01223 872002.